Mexican Cantina Comes To Chestnut Hill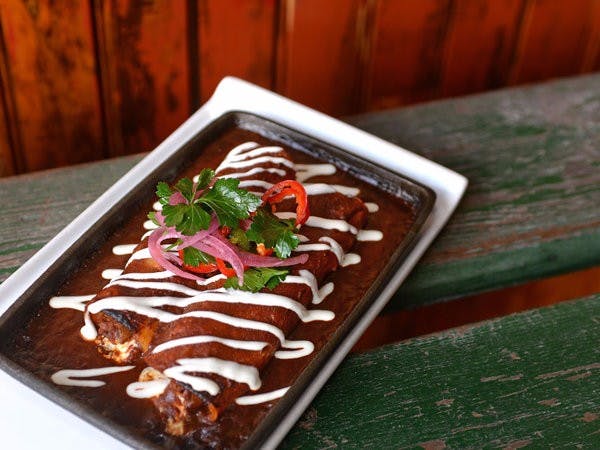 Feb 09, 2016
"As the tortilla chips crumble, Chestnut Hill has mostly missed out on the Mexican revolution that has brought an influx of more.. authentic flavors to so many corners of Philadelphia over the last decade. Avenida, which offered hints of that, recently closed. So, can the new El Poquito be the enchilada answer to Chestnut Hillers' margarita dreams?
It depends on what you're looking for in a Mexican restaurant. If you're an adventurous type craving the rustic power of handmade mole tamales, earthy barbacoa, and pancita tacos found in many of South Philly's low-frills taquerias, El Poquito is not for you.
If you're hoping for something with a little more mainstream gloss – but not as phony as, say, a suburban Don Pablo's – El Poquito delivers a solid, simplified translation of the nueva cantina style popularized by Jose Garces at Stephen Starr's El Vez and, later, his own Distrito.
From the earthy tortilla soup to several fresh ceviches and short-rib-stuffed enchiladas glazed in an intriguing black mole, there are enough recognizable threads here that the Garces connection is legit – albeit with a Chestnut Hill-tempered twist.
Co-owner George Atterbury and chef Andrew Sabin had key roles in the Garces empire. Atterbury was director of operations for Garces' restaurants at Revel (including a taco-focused version of Distrito), and later the entire restaurant group. Sabin cooked with the Iron Chef for nine years, worked on Garces' cookbook (The Latin Road Home), and helped open Distrito with Tim Spinner, who went on to open his own successful trio of modern Mexican restaurants.
El Poquito does not dare take as many risks as Spinner's La Calaca Feliz (still my favorite nuevo Mexicano), or even his more casual Taqueria Feliz in Manayunk (home of the grasshopper taco).
Most everything about this noisy four-month-old cantina, from the rustic-chic decor with an exposed wood barrel ceiling and dangling Edison lights to the somewhat muted spice levels in the cooking, has been tuned to Germantown Avenue's more conservative tastes…"