Award-winning Wyndmoor Artist Maura Matthews' Paintings On Display At El Poquito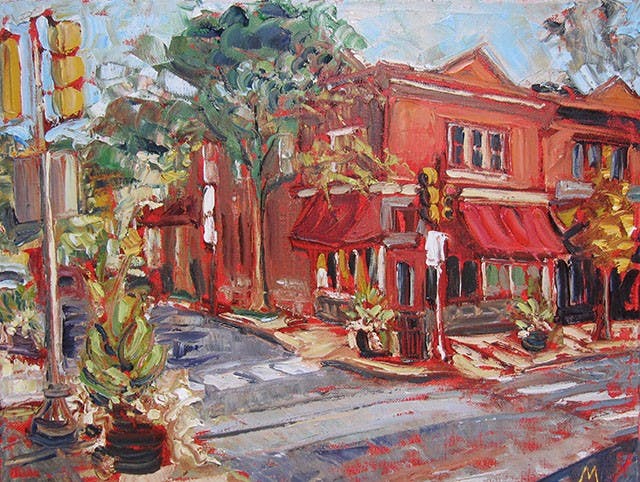 June 9, 2016
By Len Lear
Wyndmoor artist Maura Matthew's stunning paintings reflect her love of travel, which began with an 8th grade class trip to Paris, followed by a junior year abroad at Oxford University, a year spent teaching English in Japan and many trips around Asia, Europe and North, South and Central America, as well as the Caribbean.
In her stunning work, Maura, 41, revisits favorite places, depicting scenes with a palette knife, which lends texture and heft to her work. She begins her paintings on a red ground, then adds color in a pattern of darks and lights. Her work is currently on exhibit at El Poquito, the Mexican restaurant at 8201 Germantown Ave., at least through June 12. More than 70 people attended the June 2 opening, and Maura sold eight paintings.
The native of Bethesda, Maryland, told us, "I've always loved art and can still remember picking 'cornflower blue' as my favorite crayon color in kindergarten. As a child, I loved drawing floor plans and rearranging my dollhouse."
After teaching English in Japan, Maura worked in program publicity for the Discovery Channel, TLC and Animal Planet, and spent six years working in development and alumni relations at Penn's School of Design (then the Graduate School of Fine Arts).
She met Steve Matthews, an Oreland native, in 1995 at the College of the Holy Cross in Worcester, Mass., after which "I gave Philadelphia a try and really took to the city. I love that it's affordable, neighborhood-based, walkable and cultural."
The Matthews lived in Fairmount for five years before moving to Wyndmoor in 2005. "Wyndmoor is great," she said, "because it's like a small town within walking distance of Chestnut Hill and a beautiful drive into the city. I love being able to hike on the Wissahickon one day and visit the Philadelphia Museum of Art the next."
Maura earned a Masters degree in education at Penn in 2005 and started teaching oil painting classes at the Whitemarsh Art Center in 2008, when she applied for a part-time development position that turned into a painting job she much preferred.
Maura participated in the Chestnut Hill Plein Air Festival last year (and will this year), where it was not unusual for viewers to mention the similarity between her work and that of Vincent Van Gogh. "I love the dappled light of the impressionists," she said, "the bold colors and brushwork of the post-impressionists and the strong compositions and contrasts in Japanese woodblock prints."
Maura's paintings are representational, but the way in which she builds them is abstract. She applies paint with a palette knife in a mosaic-like pattern of darks and lights. Her favorite elements are "the abstract moments, touches of complementary colors and interesting strokes made with the knife."
Applying paint with a palette knife instead of a brush results in a thickened, three-dimensional texture either up close or at a distance. Maura also favors the kind of bold, primary colors used by her heroes, the Fauves. "My paintings tend not to be muted," she said. "When I do a portrait, it does tend to be a colorful portrait."
The Fauves were a group of post-impressionist painters, the most prominent of whom was Henri Matisse, noted for their arbitrary approach to color. They painted recognizable objects but in an unorthodox way. For example, skies could be red, faces purple, etc. "I was told once it doesn't matter what color you use, as long as it's the right value," Matthews said. "You could paint a purple apple as long as the darks were dark and the lights were light."
What are the pros and cons of life as an artist? "It's been a very rewarding way for me to be creative, connect with others and make money since having children … It's also been a great way for me to contribute to the local community. I loved creating a chalkboard mural at the Plymouth Meeting Whole Foods in 2011 and a children's book-based mural in the Enfield Elementary School Library in 2014."
Maura first started selling her paintings in 2006. She received second place in oils at the Chestnut Hill Fall for the Arts festivals in 2015 and 2013 and first place in the 2015 Whitemarsh Art Center Plein Air Paint Out. She won the 1997 Reardon Award for excellence in studio art from the College of Holy Cross and a 1993 Maryland Artists Equity Award.
What was the hardest thing Maura ever had to do? "Commissions can be tricky because I'm being asked to paint someone else's vision. A patron in D.C. once asked me to paint his car in front of different monuments … It's challenging but ultimately rewarding to do something new for myself and desirable for someone else."
What is the best advice that Maura, who can speak conversational Japanese, ever received? "When I was expecting my first child, someone told me to 'trust your instincts,' and I think that's so important in parenting, painting and just about everything else. Believe in yourself and go with your gut!"
In her spare time Maura loves to run, walk, do yoga, read, cook and travel.
When she worked at Penn, she spotted Bono of the rock band U2 on the sidewalk behind Irvine Auditorium. "I went right up to him to say hi. He was so approachable and personable, and I would love to have the chance to speak with him again about what makes him tick as a father, husband, musician and humanitarian."
Maura and her husband have three children — Kate, 10, Nell, 7, and Patrick, 4.